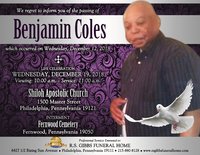 Benjamin Coles
ENJAMIN CHARLES COLES was born on
November 26, 1943 in Philadelphia, Pennsylvania. He was one out of ten children born to the late Oliver and Francis Coles. Benjamin was educated in the Philadelphia public school system. He graduated from Benjamin Franklin High School. His first job was at Bislers Paper Box Company.
On January 27, 1965, Benjamin married the love of his life, Delores Coles. From that union, two step daughters were gained, Iris and Felicia.
In 1975, he started working for Septa out of the Callohill Bus Terminal. He met many people on his bus routes during his tenure driving for Septa. After thirty-nine years of service, he retired in 2014.
Benjamin, also known as "Benny," loved flirting with the ladies and going to the Casino. Benny enjoyed his privacy, but he also enjoyed being around his select friends. Benny enjoyed life.
Benjamin was preceded in death by: two brothers, Leroy Coles and Walter Coles; five sisters, Lilian, Dottie, Jenny, Dorothy and Anna; his wife, Delores Coles; and his two step- daughters, Iris and Felicia
He leaves to mourn: his daughter, Loretta Young and son, Michael Williams; son-in-law, Tracy Williams and daughter-in- law, Pamela Williams; two brothers, Joseph Coles and Robert Coles; his grandchildren, Kiana, Ciera, Tinnelle, Tracy, Keith, Alonda, Channyn and Nicole; a host of great grandchildren, nieces, nephews, cousins, relatives and friends.