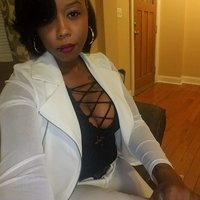 Jamika Jahneen "Jamika Da Diva" Prater
On Wednesday January 9th 2019 at home with her family in Germantown, an angel whispered in the ear of our beloved Jamika; that her work here was done, it was time for her to come home and rest.
Jamika Jamell Jahneen Prater also known as Meek, was born on April 5th 1988 to Dawn M. Lee and John Y. Prater, then soon after met Shelton Logan who loved and raised her as his own ever since. She was educated in the Philadelphia School District and successfully completed and received her diploma.
Jamika was a bubbly , fun free spirited person who had a heart of gold. She was passionate, energetic, and creative which led her to enroll at The Art Institute of Philadelphia where she took up Fashion Design for a short period of time. Jamika was very creative; as a child she use to make dresses out of sheets and purses out of pillow cases. She then went on to her passion of doing hair and makeup. Jamika was a jack of all trades, and she definitely danced to the beat of her own drum. She also had a love for music , her favorite artist being Michael Jackson, She loved him so much that she named her daughter after him. Jamika would sit for hours in her own world listening to Michael Jackson's music. Jamika brought everyone around her plenty of joy , humor and genuine love. Jamika was deeply loved by her entire family , Jamika was definitely a Diva and she will be truly missed.
She leaves to cherish her memories: Her parents , Dawn M. Lee , Shelton Logan;The father of her children , Sean Vance ; Her Children, Sean Vance Jr and Chloe Marie Michael Vance; Four Sisters , Sahara (Walwa) , Sakidi (Sheedie) , Sha-Ronn, La-Ronda (Ladybug); Four Brothers, John (Pooky) , Keon, Marcus , Michael;Two Nephews , John , Shymeer; Four Uncles, Joseph , Clinton , Kevin , Robert, Michael and Brian; Two God Sisters , Kayla, Tanesha; One God Brother, Quadir; A host of cousins; Her Bestfriends, Jazz , Efitaya, John and her best friend and cousin Teaneia.
In addition,preceding her in death; Lisa , Debora , Rosa and her God Sister Cenie.