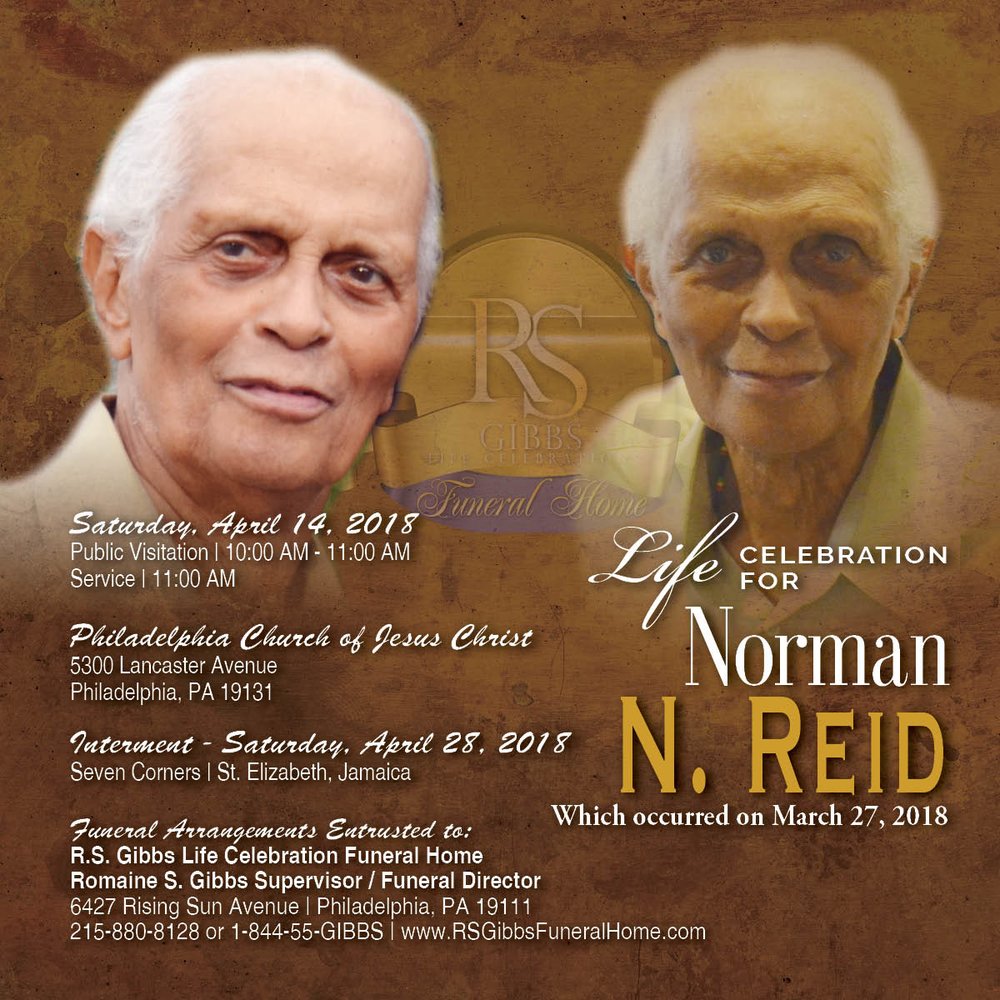 Share Your Memory of
Norman
Obituary of Norman Reid
Norman Nivano Reid, was born on August 10th, 1934 in Panama City, Panama. He was the oldest of two children born to the late Oswald Reid and Viola Johnson. He was called home to be with the Lord on March 27th, 2018 surrounded by his closest relatives and friends. He transitioned comfortably after a brief illness. Norman lived a peaceful life, he had an outgoing and engaging personality, and nourished people around him with genuine love.
In 1948 Norman migrated to St. Elizabeth Jamaica with his parents where he received his primary education. Fluent in Spanish, he and his younger brother were often referred to as "the two Spanish boys" and found it difficult at first to assimilate to the Jamaican culture. While in school he was a member of the Jamaica Combined Cadet Force of which he was quite proud. He later attended a local technical school to begin a career in mechanics. It did not take long before Norman adapted to his new country and his love for Jamaica remained strongly with him. Years later, he migrated to the United States in search of better opportunities and to raise his family.
Norman (lovingly referred to as Popsie Reid; PopPop; Mr. Reid; Reidee or Brother Reid) was fun-loving and free spirited. He always wore a smile on his face and ready to give a helping hand to anyone in need. He had an unselfish mindset and was passionate in everything he did. He enjoyed dancing, listening to music and traveling overseas on vacation. He could hold an in-depth conversation with anyone he met and always knew how to shine light and leave a positive impact on the lives of others. He never met a stranger he didn't know, to himeveryone was "his friend".
Norman loved his family and would make several calls throughout the day to check on everyone to make sure they were good. If you needed him for anything, he would find his way to you, whether by bicycle, walking, public transportation or finding a ride from a friend. He was a calm manner man; who rarely gets upset and if he ever got close to getting upset he would simply say "ok done" and that's where the discussion ended. Norman loved the Lord, he attended church regularly and was a member of the Church of Jesus Christ where he was baptized on October 15, 2017. He traveled on many church trips and was known and loved by all. He would worship and praise God, like no other could and had a special relationship with God.
His youngest daughter, Cherese Reid preceded him in death. His life will forever be cherished by his children: Romelda Irving, Alvin Reid, Donovan James, Karlene James. Dwight Reid, Christine Reid, and Melissa Lumsden; his son-in-law's, Christopher Lumsden, Jackie Irving and Gregory Barnes, nineteen loving grandchildrenand twelve great grandchildrens; a host of nieces, nephews; cousins; countless lifetime friends; his special love, Gayle Marrow. and COJC church family.
We will all miss him dearly and as he always love to say, "Peace, One Love and God Bless" to all.
To send flowers to the family or plant a tree in memory of Norman Reid, please visit Tribute Store
Public Viewing
10:00 am - 10:55 am
Saturday, April 14, 2018
Philadelphia Church of Jesus Christ
5300 Lancaster Avenue
Philadelphia , Pennsylvania, United States
Life Celebration
11:00 am - 1:00 pm
Saturday, April 14, 2018
Philadelphia Church of Jesus Christ
5300 Lancaster Avenue
Philadelphia , Pennsylvania, United States
Final Resting Place
10:00 am - 12:00 pm
Saturday, May 12, 2018
Seven Corners
Seven corners
Jamaica, Jamaica