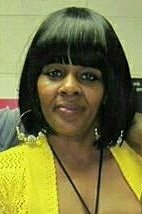 Share Your Memory of
Carmalita
Obituary of Carmalita Scott
Life Story
Carmalita Scott is a native of Philadelphia, Pennsylvania. She was born on March 04, 1959 to Joyce and Richard Scott but was raised by Joyce & Henry McCaskill. Carmalita was educated in Philadelphia public school system where she attended West Philadelphia High School.
Carmalita gained employment with PGW Crisis Team where she had the opportunity to do what she loved, which was to help and talk to people.
To know Carmalita, was to love her. Carmalita's brightpersonality tells her life story better than any historical account or time lines.
"Nafeesa", as she was affectionately called, was the definition of Love. She loved spending time with her family, from her grandson, her sons, daughter, and brothers. You could always catch Carmalita at home hanging with her friends John, Tanya (R.I.P.), Coffee and Nee-cy (aka Teddy Bear) or on the phone talking to Jackie, Denise, or Glenda. Carmalita was known for her cooking; never a shortage of requests for her greens or mac-and-cheese. At any moment during a conversation with her she'll turn to talking about her kids and her dog nu-nu.
Most people didn't know that Carmalita loved to sing and wanted to join the choir. She also loved to take pictures of her family and always wanted us to take pictures of her. To know her is to know her family because she will share her family photos whether you wanted to see them or not! She took pride in her appearance and was always in Rasheeda's chair getting her hair done.
Carmalita was soft hearted with a smile and personality that would light up any room, when she laughed, she made you laugh. Despite all her challenges, trials and tribulations, she never changed. It never changed her character, even when in pain or hurting, she would never let on. Carmalita hid her pain, so you wouldn't hurt for her. She was a blessing and an angel born unto us, and we celebrate her loving life and loving ways.
Carmalita had a strong fellowship with God. She was afraid to fly in airplanes. Now, she has her own set of wings to fly amongst the stars and into the heavens, with the rest of the beautiful angels in the sky! God bless you Carmalita, we love you and miss you dearly.
Carmalita Scott, 58 preceded and now reunited with her loving Mother: Joyce Scott, Twin sister Thelma Scott, step father Henry McCaskill and father Richard Scott, the father of her children Berkley Eikerenkoetter and close friend Tanya Henry.
Carmalita is survived by her Children: Nafeesa, Naim, Raheem and Khalif. Grandson: Raheem Jr., Brothers: Darren, Montez and Richard. Nephews: Rashad and Darren Jr., Nieces: Anisa, Joyce and Precious
Her close friends John, Coffee, Denise, Glenda and her cousin Bet Bet, Jackie Debose and a host of extended family and friends.
Lovingly submitted, The Family
To send flowers to the family or plant a tree in memory of Carmalita Scott, please visit Tribute Store
Public Viewing
9:00 am - 9:50 am
Saturday, July 8, 2017
Grace Christian Fellowship Church
6208 Grays Ave
Philadelphia , Pennsylvania, United States
Life Celebration
10:00 am - 12:00 pm
Saturday, July 8, 2017
Grace Christian Fellowship Church
6208 Grays Ave
Philadelphia , Pennsylvania, United States
Repast
Family and friends are invited to continue the life Celebration of Ms. Scott immediately following the services.